September 2017
Reigning 'Leading Vendors' named double finalists for the second year running at the European Software Testing Awards 2017!
London, 18/09/2017 – nFocus Testing, an industry leading multi-award winning testing services provider specialising in Strategic IT Resourcing, Agile & DevOps, Automation and Performance Testing, are today proud to announce they have been named double finalists for the second successive year and have earnt the chance to retain their 'Leading Vendor' title at the European Software Testing Awards 2017.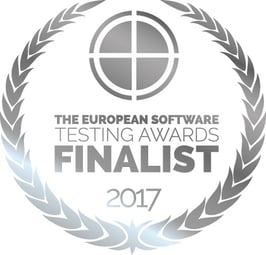 nFocus have been named finalists in the 'Leading Vendor' and 'Testing Manager of the Year' catergories.
nFocus' Managing Director Phil Edwards explains, "Being selected as finalists in two categories by a panel of our peers is a momentous occasion for us. I want to say a huge thanks and congratulations to our team for helping us get this far, and will look forward to celebrating the success of our industry at the awards ceremony on 21 November".
The 'Leading Vendor' catergory is for the vendor who receives top marks for their product/service and customer service with the judging looking for:
Evidence of a commitment to high quality and standards to customers

Commitment to customer satisfaction

Evidence of value for money

Proof of thought leadership and drive to further the software testing/QA industry

Evidence of reliability, flexibility and speed of installation
The 'Testing Manager of the Year' catergory is for the the most outstanding Test Manager over the last 12 months with the judges looking for:
Excellent people management and communication skills
Evidence of achieving project aims and targets through effective leadership
Proof of commitment to the wider testing and QA community
Examples of procedures put in place to ensure high quality results
Evidence of a commitment to high quality and standards
Demonstration of self-evaluation, commitment to self-learning and improvement
Judges are appointed based on their extensive experience in the software testing and QA field. These seasoned professionals, all of whom currently hold senior management roles guarantee that each entry is judged fairly and accurately.
The winners will be announced at a Gala Dinner in London on the 21st November 2017.
For information about nFocus' 2016 Leading Vendor win, please click here.
About nFocus
nFocus Testing are an industry leading multi-awarding winning test consultancy operating across the UK since the year 2000. nFocus help organisations flex, scale and manage the high peaks and low troughs of their testing requirements. They have delivered a full range of testing services for many clients across numerous verticals.
Services include Testing Health Checks, Test Automation, Testing in Agile, Testing in DevOps, Test Resources and Partnering, Non-Functional, Performance Testing, Security Testing, Mobile Application Testing, Flexible IT Resourcing and Recruitment Services.
Why nFocus:
Specialist QA and testing consultancy for over 17 years managing a team of over 120 UK based consultants
Vast domain experience across most sectors including Technology companies, Banking & Finance, Media, Retail and Energy
Experience of working within all processes and methodologies and in recent years developed a strong approach to improving quality within Agile and DevOps projects
Key competencies covering Test Approach, Test Automation, Mobile Testing and Performance Testing.
Awarded Microsoft's prestigious 2014 Worldwide Application Lifecycle Management Partner of the Year for our work improving quality throughout the application
A specialist recruitment capability through our recruitment arm branded as RecruiTest.
---
To find out more about nFocus, or to learn about how we can help support your software testing efforts, please fill out the form below.